The Apple of Armonk's Eye
Long before Armonk was known for its apple cider and donuts, Edwin (Ed) Schultz had a plan. In the 1940s he worked as a machinist at the Tarrytown Chevy plant. Each fall, the factory closed down for retooling, and he was laid off. During those breaks, he often hunted wild game, sometimes in apple orchards. One lucky day, a farmer offered him all the apples in his orchard for a flat fee of $25. And that is where the idea was born.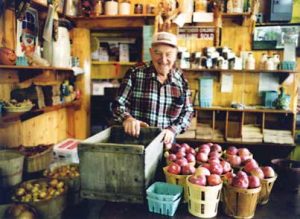 Ed's family (residents and proprietors in Valhalla) lived and worked near the Kensico Dam. They owned the Overlook Tavern, where Ed's mother Elizabeth set up a hot dog stand. Sensing an opportunity to supplement his income by selling apples to visitors from the city, Ed built a graduated display stand and began selling the apples outside the Tavern for $.35 for a five pound basket. "He made enough money that fall to buy a car," reminisced Bud Schultz, Ed's son, and long-time Armonk resident.
During his travels in his new Chevy, Ed and his wife Mary saw a business opportunity in Armonk. When the banks wouldn't lend them the $350 for a deposit on the land, they reached out to Mary's uncle. In 1951, that was enough for Ed. With help from his brother-in-law, Henry Kassen, he built the original cement block building. There, they sold watermelons, summer vegetables and the finest New York State apples, closing down each winter. In 1953, they added the larger building for which Bud remembers digging the foundation. It was on its way to becoming Schultz's Cider Mill and a Hudson Valley legend. What made the cider so great, says Bud, was that "we only used the apples directly from the trees and never from the ground, where they could get bruised."
In 1965, after the neighboring Log Cabin Restaurant burned down, they introduced their famous donuts to hungry visitors, who came from near and far to get a taste. Bud remembers when Mary was told by a baker to use only the finest flour and oil in their donut recipe. She insisted on using the same fine purveyor of these ingredients "from the day they started until the day they quit."
And even though the beloved Cider Mill closed its doors in 2002, the memories of steaming hot cider and donuts in the autumn and winter chill will forever linger in Armonk's fabric and at the Chamber's Cider and Donut Festival, celebrated each fall.